Carrowmore Lake – 9th June 2020 (Covid 19 Update)
Well done to local angler Alex Lloyd who landed this fine springer yesterday which he sportingly released. This was his first time on the lake and more unbelievably his first time fly fishing!
His father tells us he was 4 years fishing before he caught his first Fish. There were other fish caught on the lake by local anglers – x4 in total – we are awaiting photos. 3 of these were released. There was also 1.5 lb fresh Seat Trout landed by Martin Reuland who also got the first Salmon on the lake earlier this year.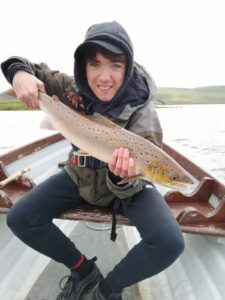 Alex Lloyd with his first ever springer yesterday June 8th 2020